Software Development
Custom web applications tailored to specific requirements
Innovative Business Solutions
Traditional data-managed services as well as custom web-based solutions can assist your company in navigating the complex world of technology. We provide proactive solutions and support to ensure that you achieve your goals.
Augmented Reality
AR solutions for eCommerce, remote training, and learning
Empowering Business Digitization
Cyversify Limited believes that every business, no matter how small, deserves access to custom software solutions that are tailored to their specific requirements. Our experts use cutting-edge technology and creative thinking to design and develop applications that streamline processes, boost efficiency, and propel growth. We are committed to providing small and medium-sized businesses in the Caribbean with the tools they need to succeed in today's digital landscape, whether it's a custom web application or software integration. Join us on a journey to transform your business through the use of customized software solutions.
Our Services
Custom Web Application Development

Inventory Management Systems

Human Resource Information Systems (HRIS)

Marketing Automation Systems:

Electronic Health Record (EHR) Systems

Accounting and Financial Management Systems

Supply Chain Management Systems
Services Continued
Fleet Management Systems

QR Code and NFC Ticketing systems
Facial Recognition Integration
API Web Services
Help desk services
Learning Management Systems (LMS)

Customer Relationship Management (CRM) Systems


we can handle it all.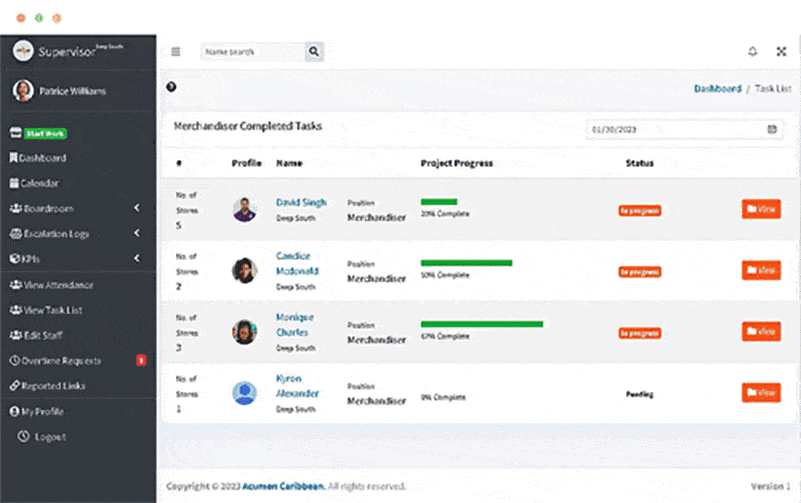 Elite Quality
Built with care and every detail in mind
Innovative solutions
Pushing the boundaries of technology to meet your needs
Dedicated and Experienced
Delivering exceptional results every time
Flexible Approach
Adapting to your unique requirements and delivering customized solutions
Affordable Pricing
Providing top-notch software development services at a fraction of the cost.
Transparency
Transparency and open communication; ensuring a smooth and seamless project experience
Continuous Support
Ensuring the longevity and success of your software solution.
"Working with Cyversify has been a game-changer for our business. They brought our vision to life with their expert development skills and attention to detail."
"We are so impressed with the end result of our project. The development team was incredibly knowledgeable and went above and beyond to ensure our satisfaction."
"Outsourcing our software development needs to this company was the best decision we made. They exceeded our expectations with their exceptional talent and professionalism."
"Our experience with Cyversify was fantastic from start to finish. The team was responsive and helpful, and the end product exceeded our expectations."
"This outsourcing partnership has been a huge success for our company. The software development team was very responsive, and they consistently delivered high-quality work."
"The software solution developed by this company has transformed the way we do business. It is user-friendly, efficient, and has greatly improved our productivity."
Contact Us
Let us create customized solutions for your business.